About Jeansonne Millwork, Inc.
Custom Woodwork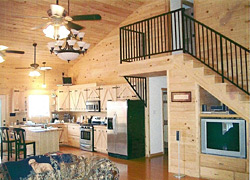 Jeansonne Millwork Inc. was established in 1974 by Harold and Lillie Jeansonne. They started the business in a building two-thirds its current size and with half as many employees. Harold and Lillie wanted to make fine custom products and create a relationship between themselves and their clients. Harold became known as "Happy" or "Hap" (for short) because he greeted every customer with a handshake and a smile. He believed in leaving his customers satisfied knowing they had a fine, custom, and well crafted product. His beliefs still hold true to this day with his son, Guy Jeansonne filling his father's footsteps. Guy still holds to his family's traditions of greeting every customer with a smile and making them feel welcome. Guy continues to strive to make every customer's house into a home and as custom and unique as they are.
We are proud of our services and customer care and would love to share our passion with you. To explore our past work, please visit our
Photo Gallery
to see everything we're capable of accomplishing.
No matter where you live, we encourage you to call us at
318-445-5665
to further discuss your millwork needs.
Custom Millwork Nationwide
We extend our services nationwide. We do a lot of business throughout the Southeastern States. Specifically we cover: Alexandria, Baton Rouge, New Orleans, Shreveport & Monroe, Louisiana. Dallas, Houston, & Austin, Texas. Jackson, Mississippi. Little Rock, Arkansas. Tallahassee, Orlando, & Tampa Florida. Oklahoma City & Tulsa, Oklahoma. Atlanta, Georgia and beyond!